Director: Jordan Peele
Starring: Daniel Kaluuya, Allison Williams, Bradley Whitford, Catherine Keener
Rating: R
Plot:
Chris Washington (Daniel Kaluuya) is a young African American who is dating Rose Armitage (Allison Williams) After five months of dating, they decide to go and visit her parents' home. Chris is skeptical at first because of his race, but does agree to put his best foot forward and visit her family. Soon after they arrive, Chris believes his family is something more than what they come off as and has to figure out a way to expose what they are doing and convince his girlfriend that her parents are not who she believes them to be.
What The Film Did Well:
This is a beautifully shot movie, especially for one in the horror genre. Some of the shots just of the environment were breathtaking and some of the better shot I've seen in a while. The movie was shot and mixed with some amazing subtly mixed sound that keeps you invested and wanting more. The tremendous combination of sound and visuals makes this movie what it is and at times chills you to the bone. It does not just rely on a score for sound as it has current soundtracks as well that helps make this movie and the sequences that occur so real.
Get Out is a movie that does an excellent job of portraying race issues that are still in America. Throughout this movie, it points out the everyday struggles of it is like to be a black man in America, especially for someone who might be in an interracial relationship. At various point the main character Chris, who is dating and visiting the family Rosie examines Chris like he is more of an object than an actual person. At some points, the way they look and admire Chris is reminiscent on how slaves would be looked at when they were thinking about being bought.
The performances throughout Get Out were amazing as well. Daniel Kaluuya play the main character of Chris and he was amazing. This was the first time I have seen him as lead in and I hope that he will continue to be cast in bigger and bigger lead roles. He acts in such subtle ways, but yet so believable and helps carry this film in so many ways. His costar Allison Williams was as good as Kaluuya and in equal ways, helps carry this film. Another performance and what stood out above everything else was Jordan Peele (Key and Peele) and he absolutely blew me away. When I heard that he was going to be writing and producing a social thriller/horror movie I doubted him, but he hot it out of the park. He did such an amazing job in showing what typed of social issues still exist and did it in such a beautiful way. He deserves so much credit for the writing on this and hope he gets the recognition in writing when it comes to award season.
What The Film Didn't Do Well:
There's not anything in this movies that I thought didn't belong or anything I hated. With that being said, the one thing I wish they would have done more of is keep the audience in the dark for a little longer. Although, get Out does a fantastic job of having mysterious elements, I felt that it let audience in on what is actually going on a little too early. I would have liked to been guessing what is happening than shown when I did, but it did not hurt the movie.
Final Thoughts
Get out was a great movie. From a writing perspective, it might be the best movie of the year, if not top five. Overall it gets an 8.5/10 and I up there in overall quality. It has originality and near perfect execution. It has a different tone and message that movies don't always get right. I hope Jordan Peele continues to write and direct movies like these because we could use more of them.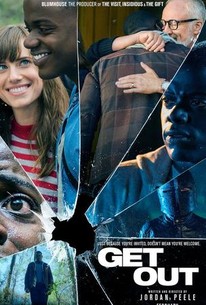 What do you think? Did you see Get Out? Is, so comment your thoughts below! What other movies do you want to see a review of? Remember to subscribe to get updates on new posts!