Director: Greg McLean
Starring: John Gallagher Jr., Tony Goldwyn, Adria Arjona, John C. McGinley
Rating: R
Plot:
At the Belko Industries in Bogota, Colombia there is a complete lock down of the 60+ American workers of these offices. When the lockdown happens and a mysterious voice over the intercom instructs the office workers to kill each other as part of a social experiment, everyone in the office must create a plan on what to do and how to act with one another.
What The Film Did Well:
This entire movie and the general concept of pitting coworkers together in this fashion was such an interesting concept to me. It takes a sort of Saw-esque "Do You Want to Play a Game?" approach and as an idea excels. I do not want to make this out to be a rip off as Saw, though, as it is original in what it is trying to do and I cannot say that I have seen a movie with this concept or take it in this type of direction as they try to do so in The Belko Experiment. The idea of running a life or death scenario social experiment is what drives the movie and is exciting for the audience for a majority of the movie.
This concept of pinning people who are relatively close to each other also makes the audience think for most of the movie. As I was watching, there were many times that I put myself in the shoes of some of the main characters and asking myself what I would do in such a situation. It is hard to imagine ever being placed in such a position like the characters in this movie, but is fun to try and brainstorm what you would do if placed in an identical scenario.
Due to the fact that it's difficult to imagine a situation like this transpiring, this movie keeps you guessing on what is going to happen next and what decisions certain characters are going to make as the movie progresses. Some of the decisions these characters make throughout the movie make sense and are justified, others not so much. Some decisions are logical and again, some are not and it makes it realistic. Each character has different motives for their actions in this movie during the experiment and because of this it creates a realistic feel and most of the characters are individualized during the experiment. It would have been easy to make most of characters act in similar ways, but they did not do that, and creates a much more realistic feel to the movie.
All in all, this movie was a thrill ride. It made you feel as if you were a part of the experiment and gets you to think about what you would do in a similar situation as these characters and I appreciated that aspect of it. It gave the movie a certain type of authenticity which I believe is much needed in a movie like this. We go to the movies and watch movies in order to have fun, and The Belko Experiment does just that, it's a fun time.
Image via Orion Pictures
What The Film Didn't Do Well:
Something that this movie really struggled with is there were so many freaking characters storylines. Because of the overabundance of characters and trying to focus on each main character equally it became jumbled and confusing on who was who and what their motives as the movie progressed. Although this didn't necessarily confuse or jumble the plot, it wore me down as an audience member and I couldn't quite keep up with everyone and their adventures throughout the movie.
Another part where this movie faltered, partially due to the abundance of characters is there was no emotional attachment or development between the characters and the audience. In most movies it helps or at least I want to have some sort of emotional draw towards the main character, but that was not the case with this movie or the characters. It there was even a little emotional development or back story of the characters, the movie and the choices that characters make would have had a much greater impact on me, unfortunately it did not do that. I truly wanted to care about the characters, but I didn't and the blame for that should be on development.
Another cause for me not really caring about what happened to the characters or what choices they were making can be blamed on how this movie was paced. This movie runs a little north of an hour and a half, so obviously it is going to be fast paced movie, but I almost think it should have been made into a longer movie. The quick paced nature of this movie made some of the characters and their decisions incredibly rushed and after a while it just made me uninterested in the movie as a whole. If they just slowed down the movie and events a little bit, especially in the middle of the movie it would have bolstered its characters' and story quality immensely.
This movie struggles with overkill, both figuratively and literally. Let's talk about it in a literal sense first. Literally a ton of people die in this movie. That's probably a spoiler, but it's a huge part of this movie and after a while it just got old. I get it, the point of this experiment and movie is for mist peoples' fate to end in death, but it got old in the last third of the movie. Maybe if the size of the group of people wasn't over sixty it would not have felt this way, but it did. Now figuratively. Over the last thirty or so minutes of the movie it kept feeling like it was about to end and a similar situation would arise and it would play out the same way time and time again. Like the overkill of people, this overkill of a plot point got old quick and made the last portion of the movie drag in a way it way it really shouldn't have.
Image via Orion Pictures
Final Thoughts
The Belko Experiment starts of like it may have been one of the more underrated and undervalued movies of 2017, but unfortunately it does not finish that way. Lack of development and recurring plot points fatigue the audience and gets them bored by the end of the movie. The Belko Experiment get a 6.0/10, missing an opportunity to great.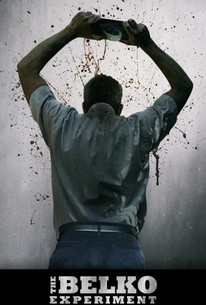 Image via Orion Pictures
What do you think? Did you see The Belko Experiament? If so comment your thoughts below! What other movies do you want to see a review of? Remember to subscribe to get updates on new posts!