Director: Ry Russo-Young
Starring: Zoey Deutch, Halston Sage, Cynthy Wu, Medalion Rahimi
Rating: PG-13
Plot:
Samantha Kingston (Zoey Deutch) keeps living February 12th over and over again and not in a good way. At the end of a high school party, she finds herself waking up from what seems to be a recurring nightmare, but cannot figure out how to end the cycle. After deep reflection and looking at the bigger picture of how people's actions truly impact one another; Samantha must act quickly to develop a plan to better the lives of others and end this Groundhog Day scenario.
What The Film Did Well:
It does a good job of putting forth a new take on the Groundhog Day idea, A lot of times, filmmakers try and do new versions of Groundhog Day and they seem more of a re hash or re make than anything. Before I Fall takes a much darker take on the idea. The Bill Murray classic and the versions after tend to try and take a more comedic approach, while this version takes a dark and more adult tone with it and I thought was done well.
I thought that the portrayal of high school life and especially high school girls. This movie has a lot of bullying in it, which makes it difficult to watch, but is accurate of what high school can be like. Although young adult movies such as Before I Fall uses clichés, they are used in correct ways and they make sense with the narrative that the movie is trying to follow. In movies, clichés can ruin the movie, but with Before I Fall, it actually helps the movie progress and make sit more realistic and accurate.
Zoey Deutch who plays the main character of Samantha Kingston was a really good in this movie. She is a younger actress and is slowly on the rise of becoming a prominent actress. She has all the traits to be a solid character in any movie. Deutch has range and prominence on screen to help carry a film by herself. I hope that she is able to get bigger roles soon to try and test what kind of actress she can really be. This was her first serious role and she was the best of any of the actors in the entire movie.
Image via Open Road Films
What The Film Didn't Do Well:
The supporting cast was poorly casted and poorly acted. Almost every other actor outside of Deutch made this movie seem like a B movie from a performance point of view. They did a bad job of delivering their lines and showed no real emotion on the screen. When there was more than one character on the screen, they had little to no chemistry and just did not seem to gel because of it. All of the supporting characters had little development and made the movie uninteresting and hard to really care for anybody in this movie outside of Deutch's character.
Before I Fall tries to be emotional in a lot of place, but quite honestly falls short for the most part. Part of this movie lacking in real emotion has to do with the plot and writing. Due to the shortcomings in how this movie was written, both in its plot and dialogue fall short in getting emotion out of the audience. If Before I Fall had spent just a little time developing a couple of the side character, it would have been very successful in hitting on the emotional side.
Image via Open Road Films
Final Thoughts
This movie was not a great movie, but it wasn't bad either. It reminded me a lot of the show 13 Reasons Why in the way it tries to teach the lesson of being nice to each other. Although it falters in the emotional side, it does try and tell the audience that sometimes you have to look at yourself to figure out the problem and that our actions have effects on people around us, even the unlikeliest of people. Before I Fall gets a 5.8/10 from me, and with some minor adjustments could have been a great young adult dram.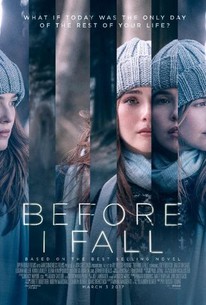 Image via Open Road Films
What do you think? Did you see Before I Fall? Is, so comment your thoughts below! What other movies do you want to see a review of? Remember to subscribe to get updates on new posts!